A pipe sleeve is a higher-size pipe section to protect the inner pipe from higher loads or to provide free movement in a certain direction. Through these pipe sleeves, the lower-size pipe or cables can easily run. In the process and power piping industry, there are many instances where pipe sleeves are used. In this article, we will learn the common applications of pipe sleeves in the piping and pipeline industry.
What is a Pipe Sleeve?
As already stated, a pipe sleeve is a protective cover to safeguard the original pipe. Depending on the purpose and application, A pipe sleeve can be made of various materials like Carbon steel, Cast Iron, Stainless steel, Copper, Nickel, Aluminum, PVC, Rubber, Composites, etc. Carbon steel pipe sleeves are quite common. They create a barrier between the main pipe and its surrounding. Pipe sleeves do not restrict the thermal growth of piping and hence the thermal cycle remains unaffected. Refer to Fig. 1 for typical pipe sleeve applications.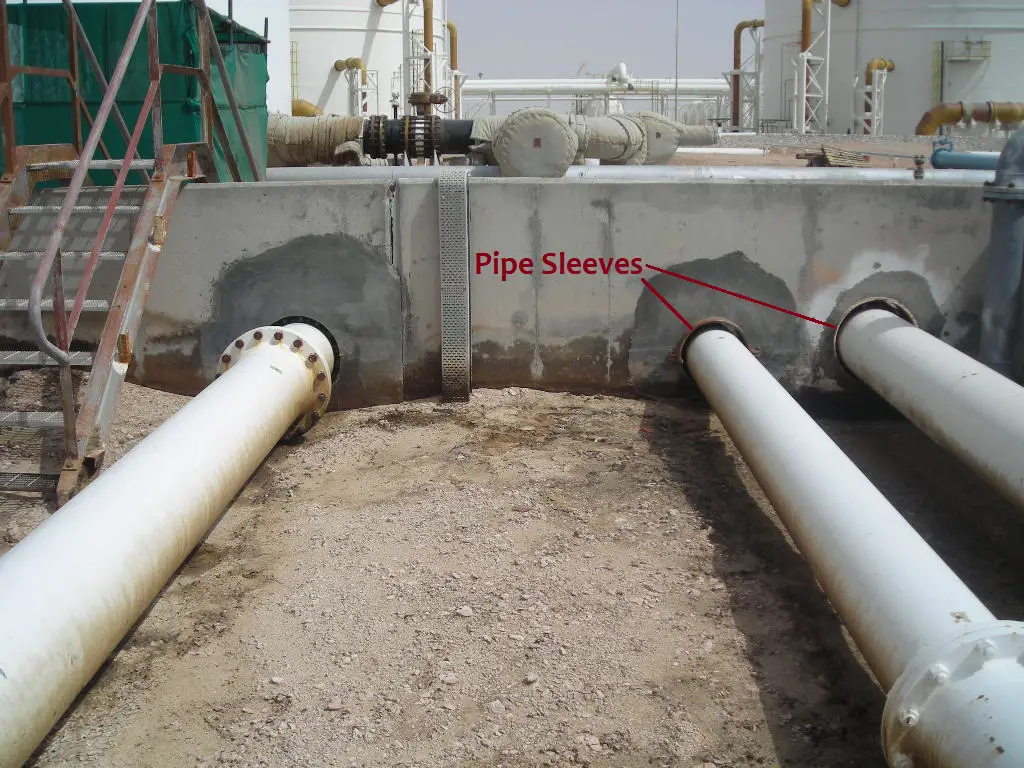 Applications of Pipe Sleeves
Pipe sleeves find wide applications in the piping industry. Some of the common uses of pipe sleeves are:
While running through the dike-wall or bund walls in the tank farm area if a pipe is not required to be anchored, it is routed through pipe sleeves.
For buried pipes, while crossing rail or roads, or bridges and culverts, the original main pipe may be routed through pipe sleeves to protect the main pipe from heavy loads from vehicles and trains.
Pipe sleeves are also commonly used in piping insulation.
Plumbing pipe sleeves are used in industrial and residential buildings.
Functions and Uses of a Pipe Sleeve
Pipe sleeves can also be used to repair a pipe temporarily to avoid costly shutdowns. By properly deciding the sleeve pipe thickness they can be welded directly over the main pipe and can serve the purpose of the main pipe. Pipeline sleeves are used for the temporary repair of pipeline leakages.
Full encirclement pipe sleeves are used in the weaker sections of the pipe to provide reinforcement on the parent pipe. They are also widely used during hot tapping operations where branch connection is taken from operating lines.
PVC pipe sleeves are widely used for cable and wiring solutions, mostly for building applications.
In some situations, spacers are provided to support the pipe or pipeline inside the pipe sleeve. This type of arrangement with equidistant spacer supports is quite common for buried composite piping systems (FRP and GRP piping systems) where running through rail or road crossings.