After confirmation of funding gates during FEED; major oil & gas firms prepare the novation stage for Long Lead Items (LLI) with the purpose to deliver early beneficial engineering for the selected facilities inherent to every piece of equipment. The identification of LLIs is followed by inquiry requisitions to bidders and then evaluated technically prior to POs and consequent awards to vendors. This article explores the design for pre-fabrication of yard-mounted elements per LLI, a practice considered cost-effective and low risk vs stick-built mounted facilities. The piping engineering task force is a major player in delivering AFD work packages for the Novation of LLIs prior to EPC awards.
What is a Long Lead Item?
Long lead item refers to the equipment, product, or system that is identified at the earliest stage of a project to have a delivery time long enough to affect directly the overall lead time of the project during the EPC phase.
To reduce the schedule impact, procurement activation is pursued as early as necessary. In order to achieve Start-up schedule milestones, some LLIs are procured at an early project time, typically at the back end of the FEED stage.
Due to economics and risk, certain activities in LLIs are envisaged and agreed upon earlier to EPC and designed during a bridging period of beneficial engineering applied to LLIs in order to satisfy demands that emerged from Purchase Orders between the stakeholders. This activity is called "Novation of LLIs", involving the Oil-Gas producer (Client), FEED Contractor (Buyer), LLI Vendor (Supplier), and EPC contractor (LSTK).
Type of Long Lead Items – Hydrocarbon Processing Industry
Long lead items are determined by Procurement in combination with Engineering and Process management. Delivery times are predominantly the function of manufacturing time (constrained by material, energy, and demand). Below is an LLI list with potential candidates, during the Pre FEED evaluation of a Hydrocracking Unit.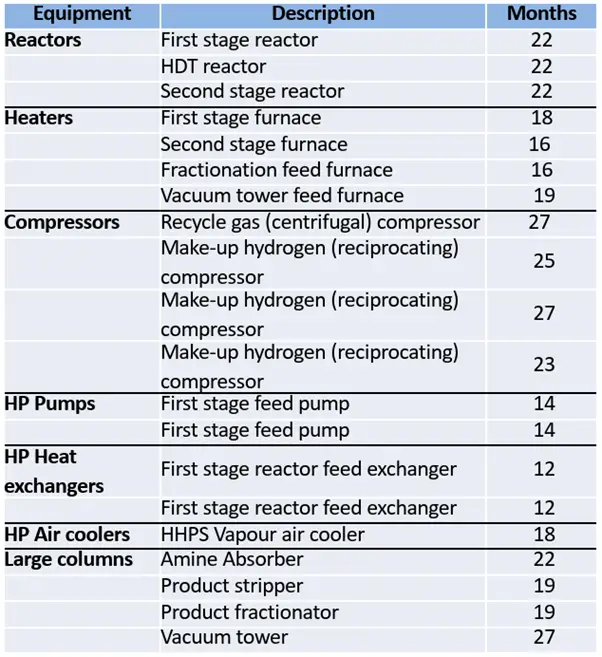 Once the Long lead item lists candidates are approved by Procurement during FEED, Pre ORDER RFQ status is set up to PO Placement for LLI AWARD. Planners adjust a temporary schedule with agreed milestones, normally orbital to TBE, where comments and bidder queries are addressed.
Once LLI is awarded the NOVATION starts. COLUMNS are the most valuable LLI due to CLIPS. For other LLIs, only a PLOT-PLAN dimensional and Stress verification is sufficient to NOVATE. 
Delayering LLI Deliverables for a VERTICAL COLUMN
Step 01 – Accessibility: Conventions are agreed upon for access miscellaneous. PIP standards used to be acceptable in absence of well-defined parameters 
Step 02 –Internals / Nozzle Orientation: Passes for trays are taken preliminarily from MDS to generate a first design for all Man-holes, Thermowells, and distributors (for accessing/removing internals avoiding downcomers) encompassed with Plot-Plans and 3D Models (if available). Vendor GA to replace MDS (when issued)
Step 03 – Ergonomics: Access to valves, instruments, and each nozzle is agreed upon with Operations.
Step 04 – Large Loads relocation: Large valves, blinds, or any other elements that can be relocated to structures to alleviate clips are discussed and agreed upon.
Step 05 – Level Instruments: Level instruments have a large bearing on the definition of platforming, internals, and nozzle orientation.
Step 06 – Platforming allowable: Maximum spans are agreed upon or waived where necessary.
Step 07 – Nozzle projection: Nozzle projection in excess or defect to calculation per ASME is agreed with the Oil Company engineering rep and Mechanical Engineering.
Step 08 – Utility Risers: Utility Stations and Steam Out, required in columns in centralized headers rising from a dedicated angular area, diverting to each consumption point.
Step 09 – Miscellaneous: Davits, Internal ladders, Skirt Opening & vents, Name Plate, Stiffening Rings, Plate Welding, Earthing and Tailing Lugs, etc., are oriented by Piping (mainly as comments to the Vendor's GA).
Step 10 – Transportation & Lifting: Lifting Trunnion and Tailing Lugs are oriented by the Construction Engineer. Crane's standing position is determined by Lifting Studies first.
Step 11 – Pre-Dressing & Erection: Columns can be fully pre-dressed, Partially dressed, or completely undressed prior to Erection.
Step 12 – Fireproofing & Fire protection: Fireproofed surfaces are to be defined as well as pre-action sprinkler rings and dry risers.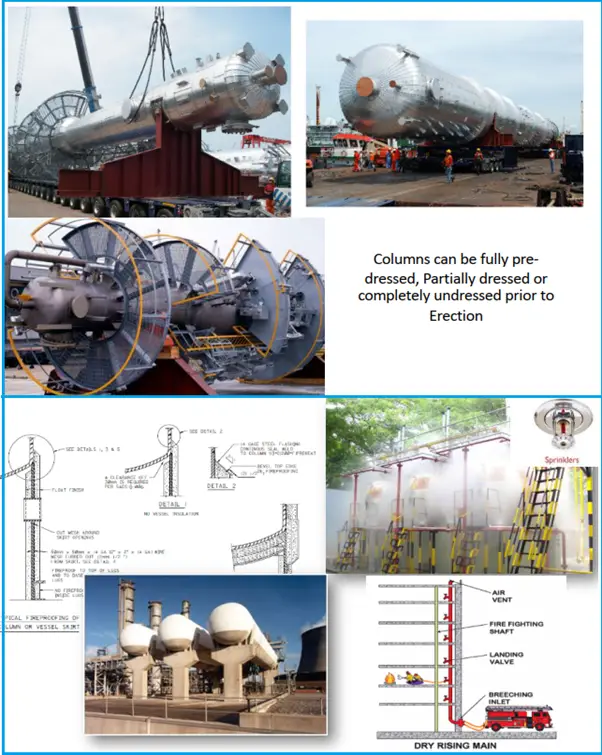 Step 13 – Insulation: Insulation has bearing in nozzle projections. Rings and clips to support insulation are fully defined by the LLI vendor.
Step 14 – Tolerances & Welding: Welding procedures and fabrication tolerances are reviewed and commented on by the Piping Material engineer to be in compliance with Client standards and International codes.
Step 15 – Hookups & assemblies: Vents, drains and Instrument hook-ups are not defined at this stage of the project (nor necessary in most cases). Where required, agreement w/Client is to take place.
Step 16 – Piping Classes: In general only Class index, Technical Requirements, and Valve selection guides are only available. Dummy, corporate, PIP, client, or temporary Piping Classes might be needed, for 3D Modelling and to justify certain specific designs or arrangements (particularly branch tables, due to s.i.f  affecting stress calculations, might be temporarily determined)
Step 17 – Wall thickness calculation: Usually full flange rating thickness is initially considered for estimation and quantification and re-used by Stress Engineers to Novate. However, where Line List is complete, a second pass using these values might be needed if too conservative for evaluating certain stresses, particularly due to inference in vertical loads.
Step 18 – Nozzle Loads – Piping Stresses: Nozzle loads are the net forces and moments exerted on equipment nozzles, that need to be within allowable limits pre/determined. Pipe stress analysis (thermal flexibility analysis) predicts both stresses in piping and loads on nozzles resulting from thermal gradients/transients, weights, pressure (sustained), and bolt-up strain.
Step 19 – Platform Loads: Nodes from stresses outputs; directly restrained statically or elastically from structural platforms, are to be passed to the Civil Group, including a graphic showing the application point, for Platforming Design and Engineering considerations (for Novation in particular, sizing the Platform Clips).
Step 20 – Standard & Special Piping Supports Nodes from stresses outputs; directly restrained statically or elastically from the Equipment skin, are to be passed to the Civil Group (for beam sizing) and the Mechanical Group, including graphic showing geometries, application point, and Loads, for Vendor's Engineering considerations (for Novation in particular, sizing the SPS Clips)
LLIs – Novation – Design Review Report & EPC Handover: Finally a 3D Model Review is discussed and agreed upon final changes, and reports are delivered. The Buyer then Handover the Long Lead Item Supply to the awarded LTSK Contractor.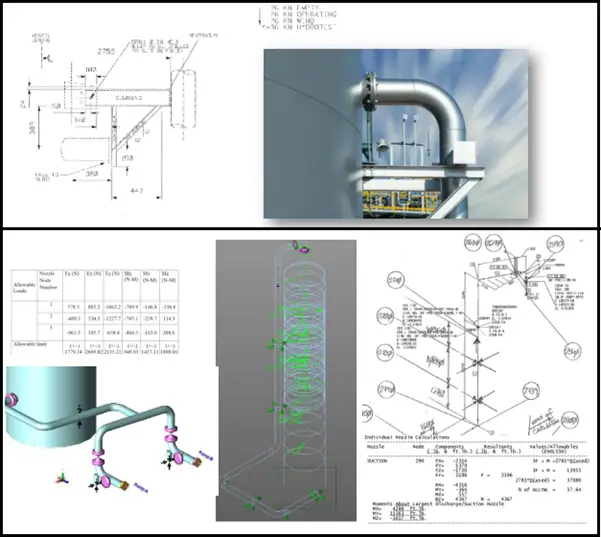 About the Author:  The above article has been prepared by Dr. Javier Blasco Alberto, Associate Professor,  School of Engineering and Architecture, University of Zaragoza. He also collaborates actively with InIPED. This is reproduced with his permission in this blog as I feel it will be helpful for readers. To know more about the Author Please click here