Pipe Stress Engineer is the person who ensures that the pipe routing done by the piping designer or Engineer (Layout) is consistent with the allowable's in the applicable piping Codes. This translates to keeping the thermal forces, and weight loads (both the live and deadweight loads) the piping system imposes on equipment, equipment nozzles, and structures within the limit set by codes or standards. Selecting and specifying stress-related products like Expansion Joints, Variable and Constant Spring Hangers, Snubbers, Struts, Etc. are also the responsibility of a Piping Stress Engineer.
So, in general, What does the Pipe Stress Engineer should know? The subject of Pipe Stress Engineering is broad enough and more than just knowing the Pipe Stress Analysis software like Caesar II, AutoPipe, Start-Prof, Caepipe, or Rohr-2.
The below-mentioned paragraphs list some of the most basic things that a good Pipe Stress Engineer should know.
Related Piping Codes
Piping codes are the bible for piping designing. Hence, It is the first and foremost responsibility of the piping stress engineer to acquire knowledge about the applicable Piping Codes for different types of Projects. He must have access to the latest copy so that proper data is used and proper decisions can be made for the calculations and the good of the project.
Pipe, Fittings, Flanges, and Valves
All Pipe Stress Engineers should know and understand all the major piping items that constitute the piping world. This means he should be aware of the many types of pipe fittings with different pipe schedules, common piping materials, the flange pressure class ratings, and the types of different valve designs.
Relationship of other Engineering groups
All Pipe Stress Engineers should know the workflow with other piping interface engineering teams like Process, Civil, Structural, Mechanical Equipment, Vessels & Tanks, and Instruments/Control Systems. These groups contribute a major part to Piping's success just as the effort of the Pipe Stress Engineer also has a responsibility for contributing to their success.
Piping Execution
Relation of pipe stress progress to P&IDs, Plot Plans, equipment vendor drawings, instrument vendor drawings, and structural support design should be known to the stress engineer in order to understand areas where the Project may be impacted.
Process Design Variables
Awareness regarding the Process design variables is a must for the piping stress engineer.
Process Plant Equipment
All Pipe Stress Engineers need to know and understand the different types of equipment and the pipe stress-related issues that affect each type of equipment.
Equipment Operation and Internals
All Pipe Stress Engineers need to understand the equipment process function and the equipment internals in order to give proper consideration to the effect of piping connected to and reacting to the various nozzles/connections.
Equipment piping
All Pipe Stress Engineers need to know the right and the wrong way to pipe up (connect the pipe too) different kinds of equipment and for maintenance/disassembly space requirements. This includes pumps, compressors, exchangers, filters or any special equipment to be used on a specific project.
Allowable pipe spans
All Pipe Stress Engineers need to know and understand the span capabilities of pipe in the different schedules for a wide variety of common piping materials. When a new project introduces a new material with severely reduced span capabilities; supplemental training may be required.
Expansion of pipe
All Pipe Stress Engineers need to understand that they should treat a piping system as though it is alive. It has a temperature and that temperature causes it to grow and move. That growth and movement must be allowed for and incorporated into the overall design. Not just for that specific line but for all other lines close by. The process of expansion in a pipe or group of pipes will also exert frictional forces or anchor forces on the pipe support they come in contact with.
Routing for flexibility
All Pipe Stress Engineers must understand that the piping layout designer has routed the pipe for flexibility and support. Routing for flexibility can normally be achieved through the most natural routing of the pipeline from its origin to its terminus. Routing for flexibility means
(a) does not run a pipe in a straight line from the origin to the terminus and
(b) building flexibility into the pipe routing is far cheaper and more reliable than expansion joints.
Weight and loads (live loads and dead loads)
All Pipe Stress Engineers need to be able to calculate and analyze the effects of weight and loading. They need to know and understand that everything has weight. They need to be able to recognize when there is going to be a concentrated load. They need to have access to basic weight tables for all the standard pipe schedules, pipe fittings, flanges, and valves for steel pipe. They also need to have the weight tables for other materials or a table of correction factors for these other materials vs. carbon steel. They need to be able to recognize when downward expansion in a piping system is present and is adding live loads to a support or equipment nozzle.
Standards and Specifications
All Pipe Stress Engineers need to understand the content and application of the client and engineering company Standards and Specifications used on the project. In particular, the Pipe Stress Engineer must have intimate knowledge of the primary Standards and Specifications he/she will use; these being the Misc. (or Secondary) Pipe Support Standards and Piping Material Line Class Specifications.
All Pipe Stress Engineers also need to understand the connecting, supporting, and guiding of piping attached to vessels (horizontal or vertical) and tanks. They need to know that nozzle loading is important and does have limitations.
All Pipe Stress Engineers need to understand that there is a logical approach to the placement of piping in (or on) a pipe rack and the setting of rack elevations. It does not matter how wide or how high the rack is or what kind of plant, the logic still applies. Starting from one or both outside edges the largest and hottest lines are sequenced in such a manner that allows for the nesting of any required expansion loops. Another good guideline is; Process lines on the lower deck(s) and Utility Lines on the upper deck(s). The spacing of the lines must also allow for the bowing effect at the loops caused by the expansion. One rule of thumb for setting the distance between piping levels is three times the largest pipe size.
Expansion loops
All Pipe Stress Engineers need to understand and be able to use simple rules, tools, and methods for checking expansion loops in rack piping. This should include the most common sizes, schedules, and materials. They also need to be able to calculate the forces of individual line anchors and the combined forces of all lines at specific support.
Cold spring/Pre-spring
All Pipe Stress Engineers should understand the basic rules of cold spring and pre-spring. They need to understand what each one is along with when to and when not to use each.
Design production methods
All Pipe Stress Engineers need to be able to read the various types of piping documents (manual or CAD sketches, layouts, detailed piping plans, isometrics, etc). Every Pipe Stress Engineer must also be able to go to the field or sit in front of a client and make proper, intelligent, and understandable pipe stress decisions. They must also be able to produce detailed final analysis packages. Today, Pipe Stress Engineers also need to know (or be able to learn) a wide range of electronic 2D or 3D design tools.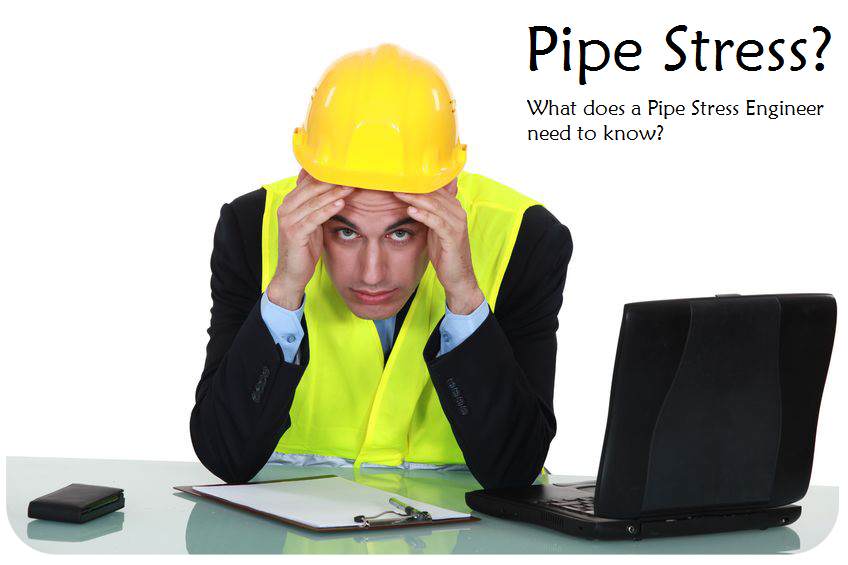 All Pipe Stress Engineers need to understand the effect of process heat conservation, know the different methods (Jacketing, Tracer Tubing, or Electric), Tracer commodity (Steam, Oil, Hot Water, etc.), and Tracer system requirements and be able to consider the heat tracing in the analysis process.
Piping Deliverables
All Pipe Stress Engineers need to understand the purposes of each of the Pipe Stress deliverables, such as Specifications, Data Sheets, and Systems for individual line analysis packages, Pipe Stress Logs, and Vendor Drawings (Expansion Joint, Spring Hangers, and Struts).
Stress Sketch Content
All Pipe Stress Engineers must understand how to present their comments and instructions. Stress Sketches become a part of the Legal Records for the Project. Therefore all notes and comments on Stress Sketches must be well thought out and clearly written in order to clearly communicate the required and agreed changes to the design.
Economics
All Pipe Stress Engineers must be aware of economics. Adding Expansion Joints at the expense of increased maintenance may not be the most cost-effective solution to a perceived stress problem.
Any person that has this type of training, this type of knowledge, and then consistently applies it is indeed a Pipe Stress Engineer. He or she will also be a more valuable asset to the company and to themselves in the marketplace. On the other hand, anyone who does not know or does not apply the knowledge about these issues while doing piping work not making a proper cost-effective contribution to the Project, the Company, or their own career.