Butterfly valves belong to quarter-turn rotational motion valves family and used primarily to stop, regulate, or start the flow. The term "butterfly" in a butterfly valve is actually a disk that is connected to a rod. When this rod rotates the disk by 90° the butterfly valve opens or closes. Butterfly valves are popular in industry because of their lightweight, fast operation, and low costs. These valves use handles, gears, or automatic actuators for operation as per the requirement.
Butterfly Valve Uses
The use of Butterfly valves is broad and wide. Some typical applications of butterfly valves are
Water supply
Wastewater treatment, Slurry services.
Fire protection, air and gas supply
Vacuum services
Lubrication System
In the chemical and oil industries
In fuel handling systems
Power generation
Compressed air and gas services
Steam Services
Food Processing
Pharmaceutical
Marine System
Sanitary Valve Application.
Basically, Butterfly Valves are suitable for use in
Constant Load Applications
Space-Restrictive Applications
Throttling Valves
Components of a Butterfly Valve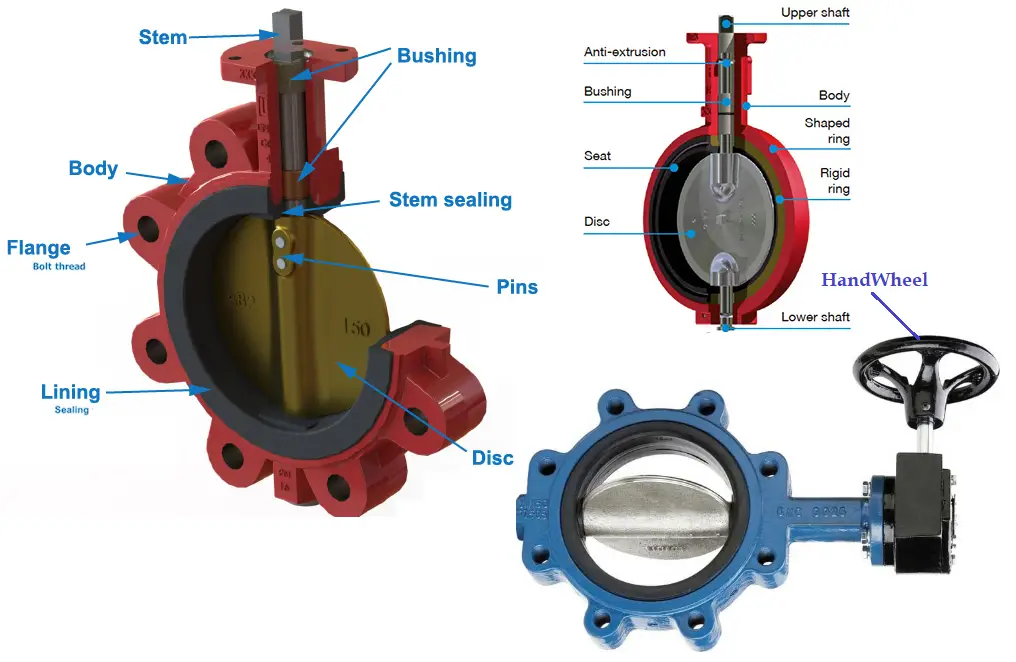 There are four main components in a butterfly valve: body, disk, stem and seat.
Valve body: the body of the Butterfly valves fits two pipe flanges, the most common body design is lug and wafer type (Fig. 2).
Butterfly valve disk: The disk (disc) is the element that stops the flow. For improving flow, sealing, and operating torque, There are variations in disk design and orientation.
Valve Stem: The stem of the butterfly valve consists of a one-piece or two-piece shaft design. Stem design shall prevent galling potential between similar corrosion-resistant materials.
Butterfly valve Seat: To provide shutoff, the seat of a butterfly valve utilizes an interference fit between the disk edge and the seat. The seat may be bonded, pressed, or locked into the body.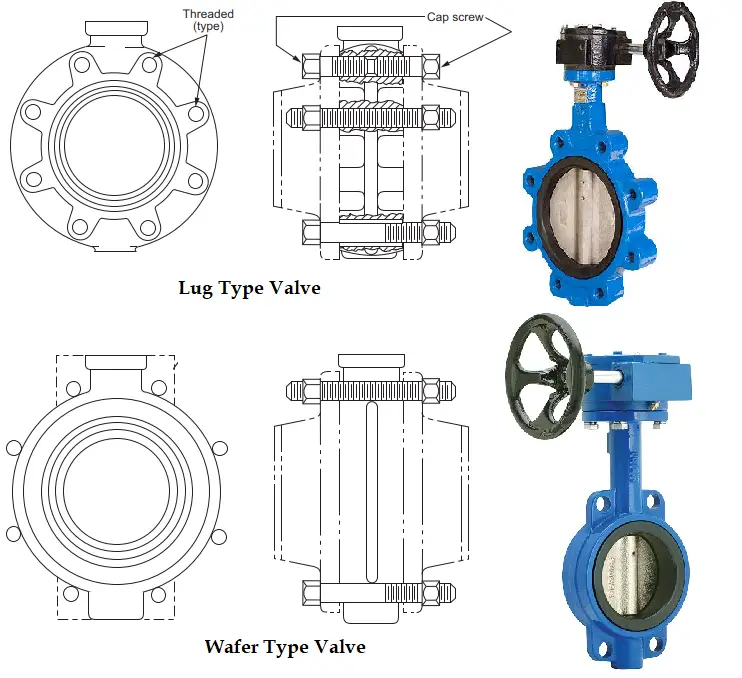 Functions of a Butterfly Valve
The main functions of a butterfly valve is
Flow regulation: Flow can be easily controlled or regulated simply by turning the valve wheel.Using a flow controller the process can be automated.
Flow Isolation
Prevention of Backflow: Butterfly valves can be used for backflow prevention in some situations.
Types of Butterfly Valves
Depending on disc closure design, connection design, and actuation method, Butterfly valves can be categorized into several types.
Based on Disc Closure Design

Concentric Butterfly Valve
Eccentric Butterfly Valve

Single-Offset
Double Offset
Triple Offset

Based in Piping Connection

Lug type
Wafer Type
Flanged Butterfly Valve
Butt-welded Butterfly Valves for high-pressure applications

Based on Operation method

Manual Actuation

Lever Operated
Gear Operated

Automatic Actuation

Electric
Pneumatic
Hydraulic

Based on Seat Material
Concentric Butterfly Valve
The concentric butterfly valve is the most basic type of butterfly valve design. In this design, the stem passes through the centreline of the disc. This is also known as a zero-offset valve. Concentric butterfly valves are used for low-pressure services.
Eccentric Butterfly Valve
In an eccentric butterfly valve, the stem does not pass through the centerline of the disc. There are three types of offset valves.
A Single-offset valve is the butterfly valve where the stem is located right behind the centreline of the disc.
In a double-offset butterfly valve design, the stem is located behind the disc with an additional offset to one side.
For highly critical applications, a triple offset butterfly valve is used. The third offset is in between the disc and seat contact axis. This design results in minimal seat contact thus very less wear and highly efficient.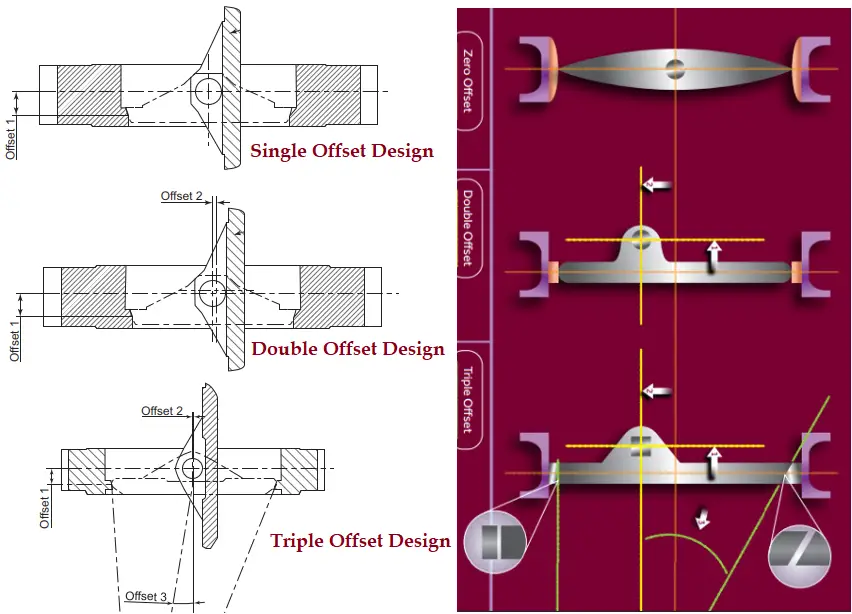 Lug Type Butterfly valve
The lug-style butterfly valve (Fig. 2) designs have threaded lugs outside the valve body. Using two sets of studs, the valve is connected with piping flanges. One end of the line can be disconnected without affecting the other side since each flange has its own bolts.
Wafer Type Butterfly Valve
A wafer-type butterfly valve is sandwiched between two pipe flanges and the flange bolts surround the valve body. This is the most economical butterfly valve. Long bolts are used covering both flanges and valve body. A wafer butterfly valve provides sealing against bi-directional pressure difference in the fluid flow. The wafer version of the butterfly valves is designed to protect against a tight seal and two-way pressure difference.
Butterfly Valve Advantages
Butterfly Valves provides many advantages as compared to other valve types.
Compact design; little space requirement.
Lightweight; easily supported by the piping system.
Quick operation; less opening or closing time.
Easy to Install.
Simple operation due to low operation torque.
Available in very large sizes
Improved energy efficiency
Low-pressure drop and high-pressure recovery
Long valve life
Relatively inexpensive to build.
Less number of parts; Hence, reduced maintenance.
Disadvantages of Butterfly valve
However, there are few disadvantages of butterfly valve as listed below
Throttling service is limited to low differential pressure
Disc movement is affected by flow turbulence.
The valve disc is always under pressure and can interrupt the flow even in an open position.
Possibility of Cavitation and choked flow is a concern
Poor Sealing function.
Not suitable for high differential pressure.
Butterfly Valve vs Gate Valve
The main differences between a butterfly valve and a gate valve are tabulated below
| | |
| --- | --- |
| Butterfly Valve | Gate Valve |
| Obstructed flow even in a fully open position | Unobstructed flow in the fully open position |
| Easy to handle and install | Comparatively difficult |
| Size smaller, reduced space requirements | Size bigger, more space requirement |
| Comparatively less pressure withstanding capability | High pressure withstanding Capability |
| Quick operation, possibility of water hammer | Operating time is more; less chance of surge. |
| Shorter Shaft, Easy access | Longer Shaft, difficulty access |
| Less weight | More weight |
| Cheaper | Expensive |
Table: Butterfly Valve vs Gate Valve
Ball Valve vs Butterfly Valve
The main differences between butterfly valve and ball valve is produced below in a tabular format.
| | |
| --- | --- |
| Butterfly Valve | Ball Valve |
| Disk Mounted | Ball Mounted |
| More Pressure drop | Less pressure Drop |
| Less sealing | More effective Sealing |
| Light Weight | Heavier |
| Less Space | More Space |
| Cheaper | Costly |
Table: Butterfly Valve vs Ball Valve
Symbol of Butterfly Valve
The following symbols are used as butterfly valve symbol in isometric and P&ID.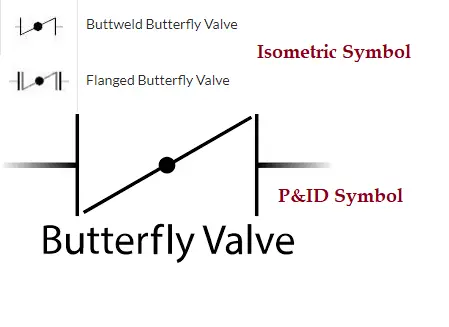 Butterfly Valve Standard
Industrial Butterfly valves are designed based on the following butterfly valve standards
API 609
MSS SP-67
BS EN 593
ISO 5752
MSS SP-68
AWWA C504
Butterfly Valve Materials
The following materials are normally used for butterfly valve components
| | | | |
| --- | --- | --- | --- |
| Butterfly Valve Body | Disc Material | Stem material | Seat material |
| Carbon Steel | Aluminium | Cast Steel | Neoprene |
| Stainless Steel | Stainless Steel | Stainless Steel | PTFE |
| Cart Iron  |   |   | EPDM |
| Ductile iron |   |   | NBR |
| Cast Bronze |   |   | Viton |
| DSS |   |   | BUNA-N |
| Nickel Alloy/Hastelloy |   |   | Inconel (Metal Seat) |
| Titanium Alloy |   |   | Stainless Steel |
Table: Butterfly Valve Materials
Data to be Provided for Butterfly Valve Manufacturer
The following data should be provided to the butterfly valve manufacturer while ordering
Flange rating/Pressure
Specific gravity, viscosity, material content, the composition of the fluid to be handled.
Pressure drop or required Cv (maximum)
Flow rate
Design and operating temperatures
Piping moments
Valve body, Disc, Seat material
Valve plate material
Valve diameter or connected pipe diameter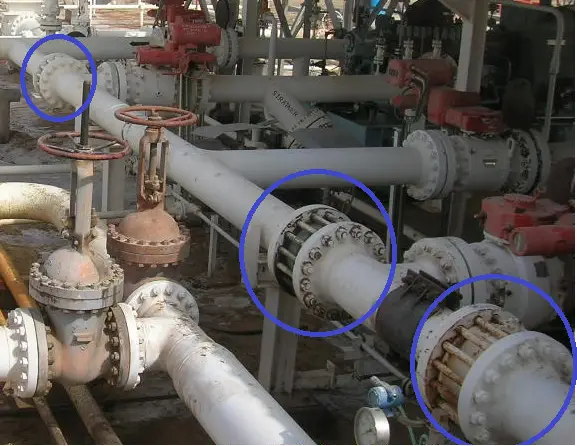 Butterfly Valve Working Principle
The butterfly valve operates based on the quick shut off principle. The circular disc (butterfly) of the valve is placed in the center of the pipe which allows a rod to go through it to an actuator, on the outer side of the valve. Using the handwheel, the metal disc is rotated to keep the disc parallel or perpendicular to the flow and it allows or closes the flow. So, the operating principle of the butterfly valves is fairly simple. The animation below by the GEMU group clearly shows the butterfly valve working.
Butterfly Valve Manufacturers
There are many butterfly manufacturers in this world. List of a few of the world-renowned butterfly manufacturers are provided below:
Dezurik
Pentair Valves and Controls
Flowserve Corporation
Fisher Valves
Flomatic Valves
Crane Company
NIBCO
Bray Valves
Zwick
Kitz Corporation
Hobbs Valve
Apollo Valves
Kieselmann
Valworx
Davis
Velan
Emerson Electric Company
L&T Valves
Cameron
Amco Industrial Valves
VIP Valves