What are Composites?
Composites are novel materials made by combining two or more materials, the resultants of which possess the combination of better properties of the ingredients.
Constituents of composites
Base material – Matrix – metal, ceramic, or polymer
Reinforcement – e.g. fiber
Fillers
Dual Laminate Composite
Thermoplastics lined to thermosets e.g. PVC-FRP, CPVC-FRP, PVDF-FRP, ECTFE-FRP, PP-FRP, FRP-FRP
FRP – made of fiberglass impregnated with either –

Unsaturated polyester resin
Vinyl ester resin
Furan resin

Fiberglass – provides structural stability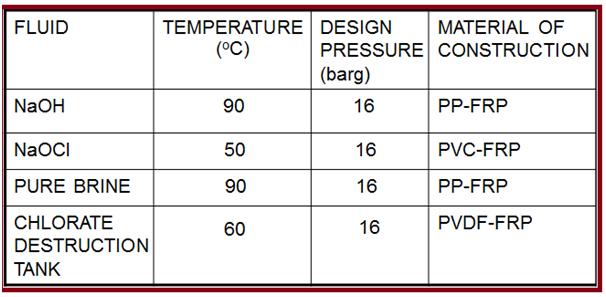 Various other combinations of Composites
FRP-Polymer Concrete
FRP-Steel
FRP-Concrete
Thermoplastic reinforced cement concrete
Thermoplastics on Steel
FRP-Polymer Concrete
Unsaturated polyester resin filled with quartz
Cast like concrete in molds
High compressive strength
High corrosion resistant
High impact strength
Application: used for electrolytic cells in copper refineries replacing lead-lined RCC cells
Fibre Reinforced Composites
Glass is the chief reinforcement used for composite materials in chemical process industries.
Mostly in the form of GRPs
S-glass – for high strength
C-glass – corrosion resistant
Carbon fibers – superior mechanical properties, low density, and corrosion resistance used for offshore oil field applications
For some strength: CFRP composite

80% lighter than steel
60% lighter than aluminum
Applications of GRP composites
Resistant to most chemicals including acids, where metals like SS and Ni-alloys fail to survive Also handle lethal and corrosive Chlorine gas, halide salts, and bleaching solutions including hypochlorite Unlike metals can withstand wide fluctuations in pH and temperature. E.g. effluent treatment process Resistant to corrosion in damp soil conditions, oxidizing and reducing agents such as H2S
Industries served
Water and waste-water treatment
Pulp & paper
Food/chemical processing
Mining-mineral recovery
Microprocessor manufacturing
Pharmaceutical
Power generation
Chemical Industry Applications
Piping
Chimney and Stacks
FGD applications
Offshore applications
Composites are attractive for this application due to the following parameters:

Corrosion resistance, strength & ease of fabrication
Installed cost as compared to SS or CS-lined e.g. CNG tanks
Dimensions:
Diameter: 1 to 10m
Wall thickness: 5 to 50mm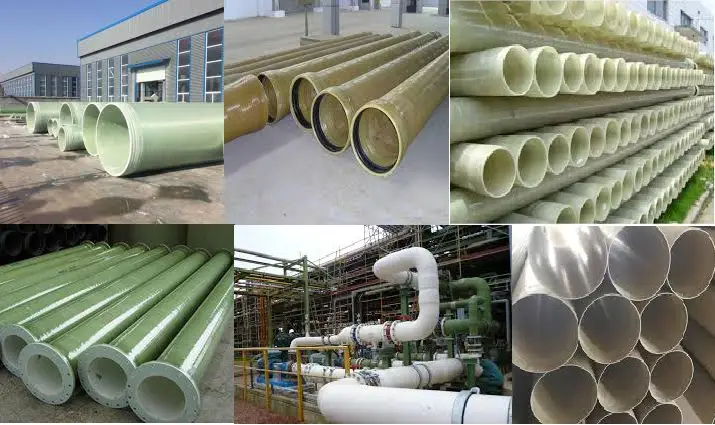 Composite Piping
GRP piping applications include

Potable water distribution
Cooling water lines
Handling De-mineralized water
Effluent systems
High-pressure pipelines handling aggressive media such as saltwater, oil, or brine

Unsaturated polyester, vinyl ester resin used for chimneys and Stacks.
Can withstand high temperatures (up to 240 Degrees C) and severe corrosive gases
Carbon fiber reinforcements and epoxy resins are used only in selective cases, wherein high strength and light weight are more important than corrosion resistance.
Deep well platforms – tension leg platforms(TLPs)

spars and drilling risers
choke and kill lines
Offshore Applications
Secondary structures including ladders, handrails, and gratings
Flow and gathering lines
Firewater lines
Casings
Surface injection
Saltwater disposal lines
CO2 handling
Tank battery piping
Materials used in Offshore composites              
Bisphenol(A) polyester, bisphenol vinyl ester, Novalac epoxy, and phenolics – Fire retardant
Summary
Glass fiber-reinforced composites are being selectively used in chemical processes and oil & gas industries for the following advantages:
Exceptional freedom of design and manufacture of many complex shapes.
Outstanding durability even in extremely harsh environments
A custom selection of resin and reinforcements
Superior strength and stiffness-to-weight ratios
Highly corrosion resistant in almost every chemical environment
Lower maintenance and replacement costs
Glass Lining
Glass
Inert, hard, and biologically inactive
Can be formed into a very smooth and impervious surface
Brittle in nature
Types of Pfaudler Glass
World Wide Glasteel 9100
Pharma Glass PPG
Stainless Steel Glass 4000
Ultra Glass-6500
Anti-static Glass
World Wide Glasteel 9100
Offers an unmatched combination of
Corrosion resistance
Impact Strength
Thermal shock resistance
Non-adherence
Heat transfer efficiency
Stainless Steel Glass 4000
Reliable glass lining of stainless steel for pharmaceutical / FDA applications
Suitable for cryogenic processes & pure products for electronics
A virtually inert glass that resists corrosion, abrasion, and product adherence
Pfaudler Ultra Glass
Addresses the requirement of chemical reactions at high temperatures
Enhanced thermal tolerance up to 343 Degrees C – an improvement over WWG 9100
Extended thermal shock protection for faster heating and cooling
Limitations:
Operating temperature
Chemicals
Cavitation
Electrostatic discharge
Abrasion
FRP
What is FRP?
FRP is a resin lining into which layers of Fibers are incorporated to optimize lining structure capability and performance.
Types of FRP
Glass Fiber Reinforced Plastics (GFRP)
Carbon Fiber Reinforced Plastics (CFRP)
Polymer (Aramid) Fiber Reinforced Plastics (PFRP)
Why FRP?
FRP is widely used because of its relatively low cost, good chemical resistance, and its mechanical properties:
Specific tensile strength (GPacm3/gm) – Tensile strength per unit density
Specific stiffness (GPacm3/gm) – Tensile modulus per unit density
Scope of Use of FRP
The bottom lining of AST
Piping
Automotive
Naval
Aerospace
Why tank lining?
An effective method for preventing internal corrosion in storage tanks
Maintaining the stored chemicals' purity and quality
The long lifetime for storage tanks
To overcome tank bottom perforations due to external corrosion
Graphite
Impervious Graphite is a traditional material selected for high conductivity, chemical resistance, and good mechanical properties. It is specially treated with synthetic resins to ensure that the base structure is fully impervious to liquids under pressure.
Graphite forms no compounds due to corrosion, and no surface films as do many metals. Hence graphite surface remains smooth and more resistant to scale build-up.
Graphite lining can replace most of the other types of linings due to:
Better thermal conductivity
Superior chemical corrosion resistance. Corrosion loss is < 0.05mm/yr
Lower initial/lifetime costs
Has higher temperature applications compared to all the polymeric linings except for the PTFE family
The trouble-free operating life of approx. 5 yrs
Can be used for lining very large size equipment
Regularly available equipment with graphite
Reaction vessels
Falling film absorbers
Acid dilution units
Tail gas scrubbers
Raschig rings
Dry HCL gas handling equipment
Impervious graphite tiles
Patch repairs:    Can be repaired easily as compared to other linings, especially glass lining.
Few more useful Resources for you…

An Article on Forms of Corrosion
Corrosion under insulation: A Presentation
Corrosion Protection for Offshore Pipelines
Corrosion Monitoring Techniques & Surveys: A short Presentation
Guide for Coating Selection for External Bolting to Reduce Corrosion
Application of Anti-Corrosive Linings in Oil and Gas Industry