Valve Inspection and Testing is an important subject for piping professionals as it ensures the integrity and performance of Valves during plant operation. During the shutdowns of operating plants, hundreds of valves tend to have various needs to be inspected. Also before using in new plants (during the design phase), the valves must be inspected thoroughly in manufacturer shop to ensure proper quality. API STD 598- Valve Inspection and Testing provides guidelines for inspection and testing of valves and the test is conducted by valve manufacturer. This Valve Inspection article will provide you with a few important points related to the inspection of valves and valve testing in the manufacturing shop as well as in operational plants.
Normally the following tests and examinations are performed on Valves/Components.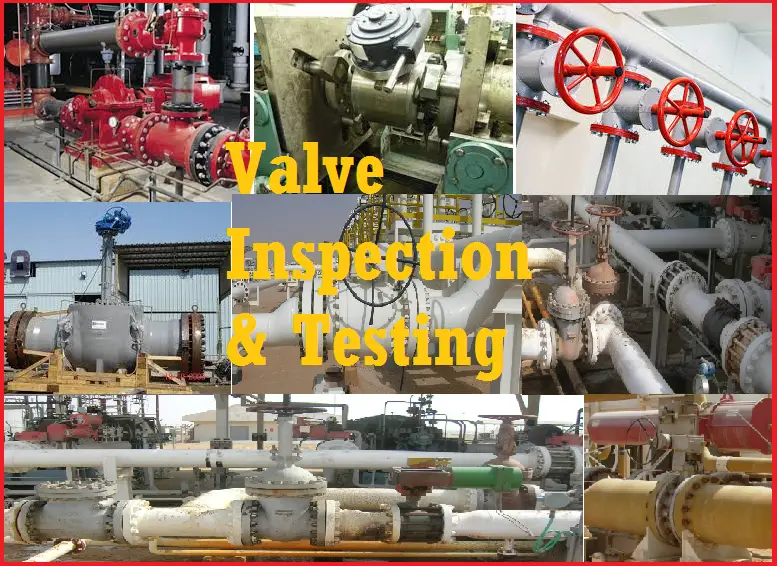 Shell Test
Required for all valve types. The shell test validates the strength and soundness of the valve pressure containing structure. This is actually a pressure test where normally air, inert gas, water, kerosene, etc can be used as the test fluid. The minimum shell test pressure that can used are listed in table 2 of API-598. The pressure is applied inside the assembled valve with ends closed. The valve shall be partially open and be able to hold pressure for a certain time. The pressure shall not be less than 1.5 times of maximum working pressure. No leakage is allowed.
Backseat Test
Required for all valves that have the backseat feature, except for bellows seal valves. This is a feature that allows valve packing being replaced while it is in the service. Normally gate valve, globe, and parallel slide gate valves are subjected to this test. This pressure test is performed to verify leakage past the stem or shaft to bonnet seal i.e, backseat. Table 3 of API-598 provides required test pressures for the backseat test for different valve types. In this test, the valve shall be fully opened and the packing gland shall be loose or not installed. No leakage is permissible in the backseat test.
Low-pressure closure test/ High-pressure closure test
Closure tests are performed to confirm leakage past or through a valve's closure mechanism. The Closure Test or Valve Seat Leak Test is performed after the successful completion of the Valve Body Test/shell test. One side of the valve inlet or outlet shall be subjected to the hydrostatic pressure and the amount of leak shall be measured on the opposite side of the valve. To explain it, if you are pressurizing valve inlet, then you have to measure the amount of leakage in the outlet. For both low pressure and high-pressure tests leakage through the disc, behind the seat rings, or past the shaft seals is not permitted. However, a limited amount of leakage is permissible at the seat-sealing surface interface that is listed in table 5 of API-598.
Double block and bleed (DBB) high-pressure closure test
Pressure shall be applied successively to each side of the closure and Leakage into the body cavity shall be checked.
Visual examination of castings
A visual examination must be performed on all castings to ensure conformance with MSS SP-55.
High-pressure pneumatic shell test
When specified in the purchase order, a high-pressure pneumatic shell test shall be performed. This test shall be performed after the shell test, using appropriate safety precautions. The pneumatic shell test pressure shall be 110 % of the maximum allowable pressure at 38 degrees C (100 degrees F) or as specified in the purchase order. Visible leakage is not allowed.
Table 1 of API 598 specifies the pressure test requirements for various types of Valves. The test equipment should not apply external forces that affect seat or body seal leakage. The following figure shows some sample test equipment used for valve testing.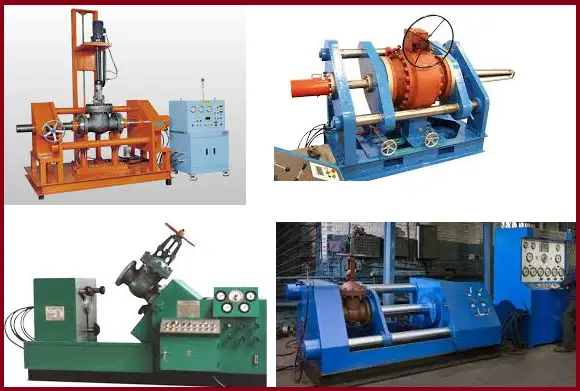 Codes and Standards for Valve Inspection and Testing
Valve inspection and testing must be performed for smooth and safe operation of industrial processes. Major codes and standards that guide in the inspection and testing procedure of a valve are
API 598
API 607
API 6D
BS 759
Third Party Inspection for Valves
Third party valve inspection is normally carried out by the manufacturer, purchaser and the representative from the third party inspection agency. Usually, a list of documents are required to be produced before the valve inspector for his review. These documents are:
Purchase Order of the Valve
Valve Manufacture Quality Control Plan
Valve Inspection and Test plan
Data Sheet of the Valve
All Approved Drawings drawings for the valve
Valve Material Test Reports
Welding Specification Procedures(WPS) and Procedure Qualification Records(PQR) for the Valve.
Valve Welders Qualifications Reports
Valve NDE Personnel Qualifications Reports
Required NDE Procedures like Dye Penetration, Magnetic Particle, Radiographic, Ultrasonic , PMI Testing, etc. for the Valve.
Heat Treatment Procedure of the Vlave material.
Valve Calibration Certificates for Test Equipment
Hydrostatic Testing Procedure of the valve to ensure leak tightness.
Closure Testing Procedure, Backseat Testing Procedure and Water Quality Document
Valve Preparation and Painting Procedure
Valve Preservation, Packing and Shipping Procedure
Valve Packing List
Valve Material Inspection by Third Party
The original or authenticated copies of valve material mill certificates need to be available with the manufacturer. The representative of the third party inspector examines these material certificates for compliance with design specifications or drawings. The review includes inspection and checks on:
Certificate No.
Heat or cast No.
Chemical composition.
Mechanical properties.
Heat treated condition.
NDE applied and results.
Surface finish
Valve material includes the body stem material, shell material, trim materials, ball, wedge or flap materials, operating components, support material, gland materials, anti-friction materials, well end, flanges and any other specified component material. Then the inspector witnesses the materials identification on the certificates against the materials marking which is further verified with the valve drawing datasheet, material list and other specifications.
Upon completion of the valve material inspection by the third part inspector, he issues an inspection visit report (IVR), that contains the following items:
Confirmation of satisfactory document review
Record of the endorsement of certification reviewed/witnessed
Record of all non-conformities
Record of any tests witnessed and the result