Piping Isometric drawing is one of the most important deliverables of the piping discipline as it provides complete information of the piping route to be erected at the construction site. So Engineers and Designers must be aware of the isometric preparation steps. In this article, a few of the salient points are discussed.
Input required for piping Isometrics
General Information about Piping Isometric drawings
Checking of Piping Isometric Drawings
Checking Piping Isometric Drawings before finally releasing them to the Construction team is very important. It minimizes errors and improves quality. Most of the design companies involved with isometrics prepare a piping isometric drawing checklist or isometric checklist to help Piping Isometric Checker in their activity. Also, many times piping isometrics are extracted directly from Piping Design Software. It is mandatory for the Senior Piping Checkers to check the piping isometrics thoroughly. In the tight schedule, It has to be ensured that the isometric drawings are released/ issued to clients with quality.
Checking shall be done only on a hard print as per the color code procedure by an experienced engineer/designer. Normally checklists are followed to ensure the quality of the isometrics. The new print after correction is "back checked" for incorporation.
In the following paragraphs, We will provide a few checkpoints which must be checked by the piping isometric checker for proper quality.
Piping Isometric Checklist
A Piping isometric checklist is a list of checkpoints that are ensured while checking the piping isometric. A piping isometric checker must ensure the correctness of the below-mentioned points in the piping isometric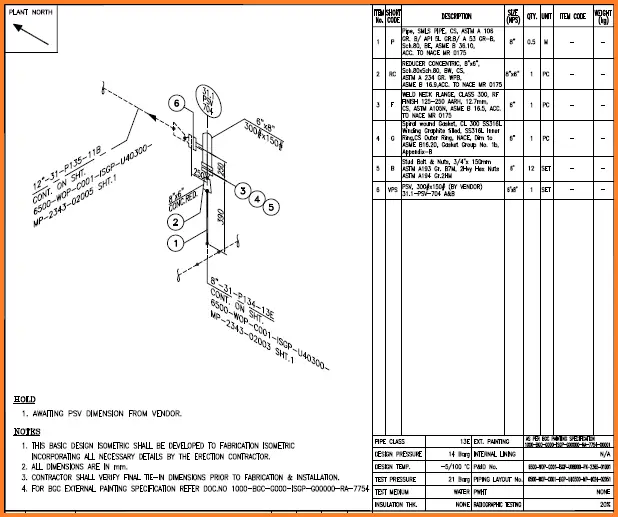 Documents Required for isometrics checking
Before starting the piping isometric checking activity, the engineer must be ready with the following drawings or documents
Points to remember while piping isometrics checking
Online Video Course on Piping Isometrics
If you wish to explore more about piping isometrics, you can opt for the following online video course
Video Tutorial on Piping Isometric Drawing
Refer to the following video tutorial for a better understanding of piping isometric drawing.
Few more useful resources for you.

Piping Design Basics- Isometric Drawings
Types of Piping Drawings
Salient Points to check while reviewing Piping Isometric Drawings