Storage tanks are the containers/vessels which are used for storing the fluid. A group of tanks together is called 'Tank Farms'. The preferred design standard for Atmospheric storage tanks is API 650. The use of tanks is common in all kinds of plants. However, Petroleum and Water industries are the largest users of tanks. Storage tanks are manufactured in different shapes, sizes, and capacities. Cylindrical tanks are the most common ones. Spherical tanks are used for storing LPG. Proper arrangement of tanks and pipes are required to optimize space and cost. Broadly, Storage tanks are used to
store feed products prior to processing.
hold partially processed products before further processing.
collect and hold finished products prior to delivery to market.
A) Process Plant
Refineries
Petrochemicals
Specialty chemicals
B) Terminals
Types of Tanks in Process plant
Based on the type of products to be stored, shapes, sizes, and potential to fire storage tanks can be grouped into various types like
Cone roof tanks: Low pressure tanks for storing petroleum, water, food products, chemicals, and petrochemical products.
Floating roof tanks: The roof floats depending on the volume of stored products. Mostly used in oil refineries, such type of tanks reduce fire hazards.
Low-temperature storage tanks: Usually store cryogenic fluids line liquefied ammonia, propane, methane, etc.
Horizontal  pressure tanks or Bullet tanks: Elliptical or hemispherical high pressure tanks.
Hortonsphere pressure tanks: Store large quantities of fluids under pressure.
Underground Tanks for drain collection of the plant at atmospheric pressure.
FRP Tanks for corrosive fluids at atmospheric pressure.
Click here to know more about atmospheric storage tanks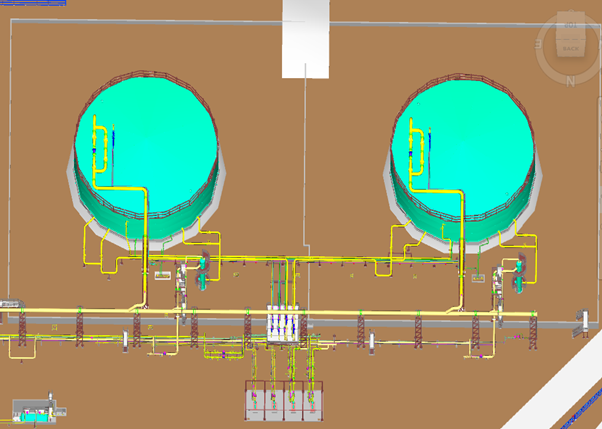 The design of tank farm and tank farm piping layout should take into consideration the guidelines by the following
Local rules and regulations.
Client specifications.
Maintenance and operation requirements.
OISD 118, 117, 117
NFPA 30
API 2030, etc.
Tank Farm Layout Consideration
The main considerations for tank farm layout are
The storage tanks shall be located at a lower elevation, wherever possible.
The storage tanks should be located in the downwind of process units.
All process units and diked (diked) enclosures of storage tanks shall be planned in separate blocks with roads all around for access and safety.
Provide a minimum of two-way access to enter the storage tank area. Preferably road shall be provided all around the dike. Also, vehicular access to be provided inside the dike for maintenance purposes.
Due to the risk of failure of storage tanks, Earthen / RCC Wall(Dike) must be provided around the tank in order to hold the liquid.
Staircase shall be provided to enter in storage tank area from the outside dike.
The tank farm should be secured by fencing & access gates shall be provided.
Relative location for Area Layout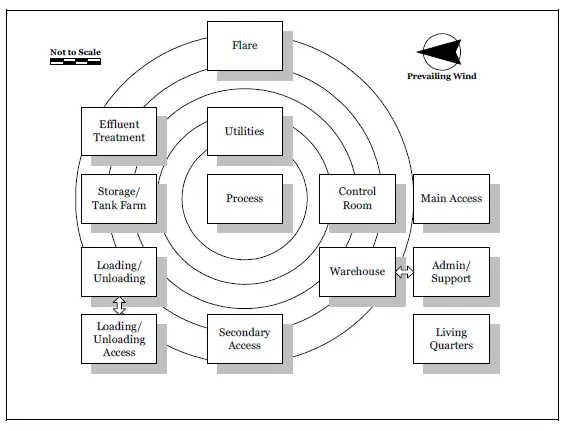 Tank Farm Layout (Dike Enclosures)
Tanks shall be arranged in a maximum of two rows. Tanks having 47,700 cu.m capacity and above shall be laid in a single row.
The minimum distance between the tank shell and the inside toe of the dike wall shall not be less than half the height of the tank.
Dike enclosure for the petroleum class shall be able to contain the complete contents of the largest tank in the dike.
Height of Dike(H): 1m<H<2m
Width of Dike(W): Minimum 0.6m (Earthen dike); No specific (RCC dike)
The separation distance between the nearest tanks located in separate dikes shall not be less than the diameter of the larger of the two tanks or 30 meters, whichever is more.
In a diked enclosure where more than one tank is located, the intermediate dike is provided. The height of the intermediate dike wall should be 450 mm if concrete and 600 mm if earthen.
Types of Dike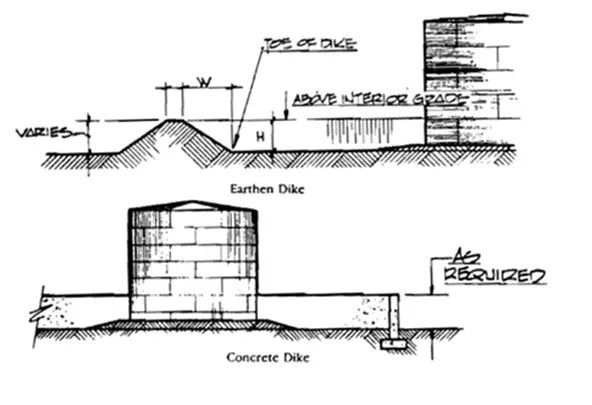 Tank  Foundation Height
For fixing the tank foundation height, discuss with process / Mech about Net Positive Suction head requirement (NPSH) of pump especially for crude oil service.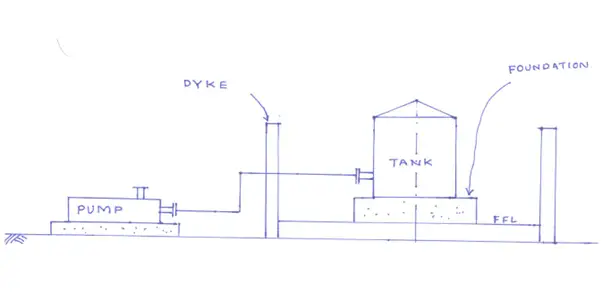 Sleeve Detail in a Dike or Bund Wall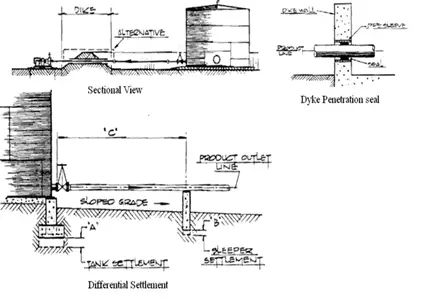 For locating tank with respect to other tanks & equipment or vice versa, Refer the minimum separation distance as mentioned in company standard.
Tank Nozzle Orientation
Nozzle orientation shall be standardized for ease of operation & following points to be noted.
The nozzle on the roof to be oriented such that under no circumstances operator steps on the roof.
Group the nozzles in one plane, so that operator movement on the roof is minimum.
Instrument nozzles on roof & shell shall be planned such that they are in the silent zone & do not experience fluid turbulence.
Dip hatch nozzle to be oriented such that there is no product spillage on the staircase & operating area.
For Spiral stairways orientation, show start point & endpoint of the platform. Also, provide a mid landing platform base on tank height.
Nozzles & platform on tank roof shall be marked separately in nozzle orientation drawing. For more details about the tank, nozzle orientation Click here
Tank Piping Layout
The optimum tank piping arrangement in a tank farm is the most direct route between two points allowing for normal line expansion and stresses. Usually, the following guidelines are followed while designing tank piping layout:
Piping located in a diked enclosure should not pass through any other diked enclosure directly.
The number of piping in the tank dike shall be kept minimum and routed directly outside the dike to Sleeper/Pipe rack.
Pumps and associated piping shall be located outside the dike wall.
A pipe may only be routed through bund walls if they cannot be passed over the Dike walls (eg. Suction line). Pipe passing through the dike shall be sleeved and sealed.
Access platforms shall be provided for valve operation & for the instrument.
The pump shall be provided in a curbed area with proper provision for draining.
No piping shall be routed in the dropout(Maintenance)area.
The tank outlet line to Pump suction nozzle is a gravity flow line. Pump suction piping from the tank shall be as short as possible.
A pipe connected to tanks shall be sufficiently flexible.
Analyze the pipelines connected to the tank as per stress criteria given on a stress analysis basis.
Blanket gas(Fuel gas) & Vent gas line (Big bore size) can be routed & supported over tank roof. Support location & load of such lines shall be marked in the tank vendor drawing. So that vendor will take care load for the design of the raft and will provide support cleat at the required location. Again need to discuss with the vendor for the high load if any.
Supporting of Tank Piping
In general, the following rules can be considered for supporting pipes connected to storage tanks:
Tank Inlet & Outlet line can be supported either from the tank shell or Tank foundation. If the support is taken from the tank foundation, this information shall be sent to the Civil department during the initial stage of the project & to the Tank vendor for providing vessel cleat.
Spring support or Teflon pad may be introduced as first support from the tank as per stress analysis based on tank settlement.
Keep the first support from the tank as far as possible. Group the lines for combined support.
Tank Farm & Piping

Fire Fighting for Tanks
The following firefighting requirements should be considered for tank and tank piping arrangements:
A fire in one part/section of the plant can endanger another section of the plant.
If a fire breaks out, it must be controlled/extinguished as quickly as possible to minimize the loss to life and property and to prevent further spread of fire.
Foam systems & water spray systems are often provided as part of the fire protection system.
Permanent hydrants and monitors alternatively are used.
Locate hydrant & monitor along the road for easy access and for operation.
Few more Useful Resources for You.

Considerations for Storage Tanks Nozzles Orientation.
A Brief Presentation on Storage Tanks
Various Types of Atmospheric Storage Tanks
Tank Settlement for Piping Stress Analysis
An article on Tank Bulging effect or bulging effect of tank shells
An article on Tank Pad Foundation
Storage Tank design using software TANK and re-rating with API 620 & API 579
EMERGENCY VENTS FOR STORAGE TANK: A PRESENTATION
Modeling Piping Connection to Storage Tank
The Basic design of High-Pressure Storage Tanks to store liquefied petroleum gas (LPG)