Cross Country Pipelines are very long-distance pipelines that run outside of the battery limit of the processing plants. The design of cross-country pipelines is governed by ASME B31.8 or ASME B31.4 for gas and liquid pipelines respectively. The pipeline material selection is a very important activity. The material selection of cross-country pipelines needs the overall knowledge of:
Design considerations.
Construction ease considerations.
operations and maintenance considerations.
hazards, risks, safety considerations and
overall economic considerations
Various codes and standards list the mandatory requirements during pipeline material selection but the final selection is optimized with user experience. The following paragraphs will list some important considerations for cross-country pipeline material selection.
Pipeline Material Selection Considerations
The following points need to be addressed while selecting cross-country pipeline materials
Soil material
Backfill material
Sacrificial anodes
Pipeline Component materials
Coating & Insulation
The physical and mechanical properties of the material.
Resistance to corrosion.
Ability to cut, machine, bend and perform other fabricating operations.
The life span of material. 
Cost of material.
Ability to withstand hazards during pipeline construction and service.
Cross Country Pipeline materials
Normally, the following pipe materials are used as cross-country pipeline materials.
Copper alloys, particularly the copper-nickel series
Bare carbon steel
Carbon steel internally coated or lined (e.g. with paint, bitumen, rubber, cement)
Stainless steels
Plastics or reinforced plastics
Composition of steel pipeline
A typical, modern line pipe steel will have 
carbon — 0.10 to 0.15%,
Manganese — 0.80 to 1.60%,
Silicon — 0.40%
Phosphorus below 0.020%
Sulfur below 0.010%,
less than 0.5% -copper, nickel, and chromium.
Development of  plain carbon steel pipes to the high-end TMCP steel pipes:
Improved strength, both yield, and ultimate tensile strength
Improved toughness properties, i.e. the lowering of transition temperature from brittle to ductile fracture and an increase of the impact toughness.
Improved weldability.
Improved resistance towards hydrogen-related disintegration in sour service, i.e. due to exposure to a wet H2S-containing environment.
Increase of yield strength and ultimate tensile strength by alloying:
Soil materials
It is primarily strength and friction properties that are a concern in pipe-soil interaction.
Classification of soil is based on a visual inspection and laboratory testing.
The aim of the investigation is to classify the soil so that strength parameters can be determined.
Cohesive soil consistency classification
Non-cohesive soil characterization
ASTM D422-63 Standard test method for particle-size analysis of soils:
     ρr = (emax − e)/(emax − emin)
 where
                emax void ratio of the soil in its loosest state
                e in situ void ratio
                emin void ratio of the soil in its densest state.
Backfilling Material
Fertility of Agriculture fields
Sacrificial anodes
Sacrificial anodes are used for cathodic protection of the line pipe steel.
the traditional sacrificial anode materials for application are alloys based on zinc or aluminum, although other metals may be used (such as carbon steel to protect stainless steel line pipe).
Electrochemically the anode materials are characterized by the current capacity (measured in Ah/kg) and the closed-circuit potential (measured in V). Density (kg/m3) is the only relevant physical parameter.
Composition of zinc anode alloy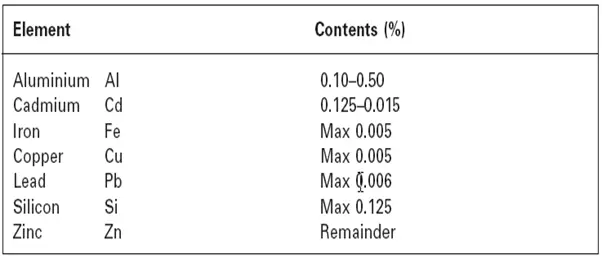 Composition of aluminum anode alloy
Pipeline component materials
The pipeline system components other than the line pipe material itself  are:
valves;
isolation couplings;
flanges;
branch connections (tees, wyes, o-lets, etc.);
reinforcement sleeves (e.g. crack arrestors, buckle arrestors);
brackets and support structures at valve stations and pipeline crossings.
ASME B31.4 Standards
Pipe, Steel, Black & Hot-Dipped, Zinc-Coated Welded& Seamless —-  ASTM A53.
Seamless Carbon Steel Pipe for High Temperature —- ASTM A106.
Pipe Flanges & Flanged Fittings —- ASME B16.5.
Steel Valves, Flanged & Butt-welding End —- ASME B16.34.
Steel Pipe Flanges —- MSS SP-44.
Steel Gate Valves —- API 600.
Coating and insulation materials
Paints and coating materials are applied to the line pipe (and components) for the purpose such as:
internal drag reduction;
concrete weight coating;
field joint coating.
Typical material parameters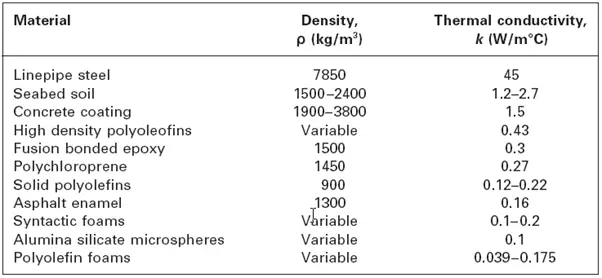 Quality Management System
The manufacturing and QC departments operate on the most effective systems developed for the fabrication, material control, stage inspections, document, and data control. These systems follow some standards like ASME, API, etc, and comply with quality control.
The in-house team of Inspectors carries out visual, dimensional, and other stage inspections during fabrication, whereas NDT is given to a qualified NDT agency.
The Quality Control Manager reviews the qualification documents and past similar experiences record of authorized level II or level III NDT personnel.
Functions of the Quality control Department
The quality control department ensures the overall quality of the system. They are responsible for the following activities:
making the Inspection & test plans, according to the technical requirement and ensuring the implementation of these plans.
Ensuring the quality of material, workmanship, and welding procedures as per the governing codes and approved procedures.
To carry out the Non-Destructive Testing (such as Radiographic Testing, Ultrasonic Testing, Penetration Test, Magnetic Particle Test, dimensional checking, hydrostatic and pneumatic testing)
To ensure the rectification of non-conformities, according to the approved procedures.
To keep the documentary records of Mill test Certificates, material reports, inspections,
Types  Of Non-Destructive Testing